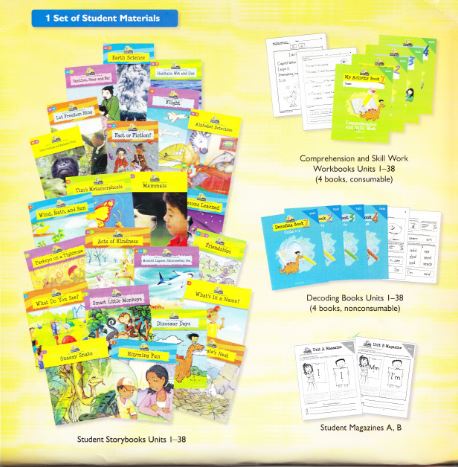 Read Well consists of 38 Storybooks with Duet and Solo Stories. Vocabulary is taught through teacher-read text and in duet stories. Solo Stories are stories that are fully decodable by students. They help build fluency and independent reading skills. There are Solo Stories included in the story book. Comprehension is taught through retelling activities, by building on background knowledge and by encouraging students to make predictions.
Duet storytelling is an interactive reading exercise where students read along with the teacher. Questions encourage students to reflect on what they hear makes sense and to check for understanding. Follow up activities provided.
Key Features of Read Well
Students practice story reading, learn vocabulary, develop decoding strategies and improve comprehension.
Read Well includes numerous opportunities to build English oral language skills.
For children learning the English language, Read Well helps students learn the patterns of English while participating in conversation.
How is comprehension taught in Read Well?
Through the use of duet stories.
With explicit teacher prompts embedded in the text.
Through retelling activities.
By building on background knowledge.
By encouraging students to make predictions.
How is vocabulary taught in Read Well?
Using student-friendly definitions.
Through teacher-read text and in duet stories.
The word is read in decoding practice when students have learned the necessary letter/sound association.