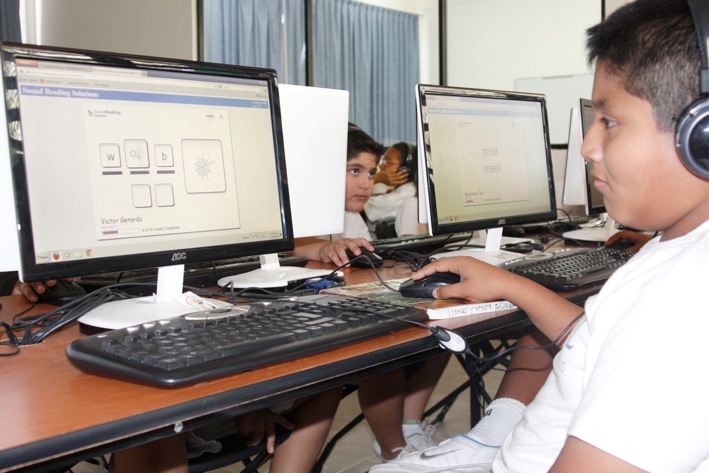 WHY IS SRS UNIQUE?
Reading is the key to academic success. SRS tackles the sound and word patterns without memorization or drills in the manner that native speakers learn. SRS enhances the ability to understand English phonics and spelling rules. SRS changes the way the brain understands how to speak and reading in English by:
1. Accuracy Areas
Native English Speakers learning to read naturally hardly ever mispronounce words. Accuracy depends on a very well tuned sense of speech to interpret written words as spoken words. By focusing on auditory skills and reading fluency, Sound Reading quickly improve English Language Learner's degree of accuracy and pronunciation.
2. Automatic Areas
Accurate reading that is labored rarely results in motivated and meaningful reading. Sound Reading's Flash Fluency practice is most effective reading fluency instruction available by teaching naming and oral recall.
3. Sense-making Areas
The brain lacks a "reading comprehension" area so it relies on the half of the brain devoted to listening comprehension. SRS utilizes activities that tightly link reading and listening comprehension, resulting in improved gains in understanding oral language an essential communication skill for English Language Learners.
Sound Reading Looks Quite Different From Traditional Reading Instruction
Sound Reading is not a traditional reading program. Sound Reading builds the listening and reasoning skills that are the hallmark of natural readers. We learn to speak by listening. Natural readers learn to read mostly by listening to their parents read to them. They read with ease because the have an excellent command of spoken words that they easily transfer to written words.  Our unique Listen-Reason-Read method is the most natural way to learn to read and perfect English. Sound Reading develops the listening skills that make learning to read so enjoyable.
Using Sound Reading:
Plan two to three reading sessions per week. Each session spend approximately 20 to 30 minutes on the software or the readers. There is no need to rush.
The Software:
Use Headphones for listening to the software exercises. Students can review their progress periodically by checking the main screen with the hexagons. A red hexagon means that the student did not successfully complete the exercise. If at any time students become frustrated by an exercise, leave it by click on the red filled hexagon with an X.
Do not be concerned if students do not master each exercise on the first try. Continue on. Each language skill taught in the software is presented multiple times in a variety of formats to assure mastery of that skill.